Online Archive of Oral History Collections
Reconceptualizing the Cold War:
On-the-ground Experiences in Asia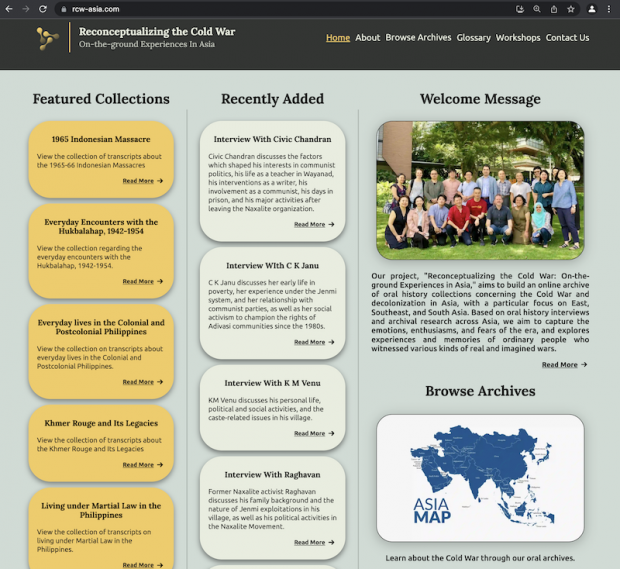 I'm pleased to announce the soft launch of an online archive of oral history collections concerning the Cold War and decolonization in Asia <https://rcw-asia.com/>. We started this project "Reconceptualizing the Cold War: On-the-ground Experiences in Asia" in 2019, and have collected more than 300 oral history interviews across Asia. Currently, we have uploaded more than 100 oral history interview transcripts in English translation (as well as the original languages, in some cases). We will upload the rest in the coming months.
Our website's collections include:
"Reconsidering the Naxalite Movement in Kerala, India"
"The 1965 Indonesian Massacre"
"Everyday Encounters with the Hukbalahap, 1942-1954"
"Living under Martial Law in the Philippines"
"Reconsidering the Malaysian Left and Labor, 1960s-1970s"
"The Khmer Rouge and Its Legacies"
"Vietnamese Culture and Nationalism"
Documents can be found through:
"Featured Collections" (Thematic Search)
"Search Map" (Geographical Search)
"Search Archive" (Keyword Search)
Documents can also be read through "Recently Added."
Each interview includes a summary and full transcript. We have also added discussion questions for each interview transcript in order to promote the use of this database in the classroom. The launch of our website has created a big splash among scholars. Some responses (in English) are as follows:
Victor Seow (Harvard University): "An amazing repository of oral history interviews pertaining to Cold War Asia collected by Hajimu Masuda and his team. Grateful for all their labor. I cannot wait to dive into these accounts."
Arunabh Ghosh (Harvard University): "A great new resource to study the Cold War in Asia using oral histories. Directed by Hajimu Masuda at NUS."
David Webster (Bishop's University): "[This] important new resource will force scholars of Cold War history to rethink the source bases used. This archive shares new stories and sources — hugely important work."
Brad Simpson (University of Connecticut): "Amazing work. This is going right into classroom use next semester. I can imagine all sorts of student research projects built around these oral histories."
Jane Hong (Occidental College): This is amazing. Thank you for your labor on this resource valuable to so many!
Michael G. Vann (California State University): "What a fantastic project!"
I hope that our collections will be useful for your research and teaching!