LSE-NUS MA Program Asian and International History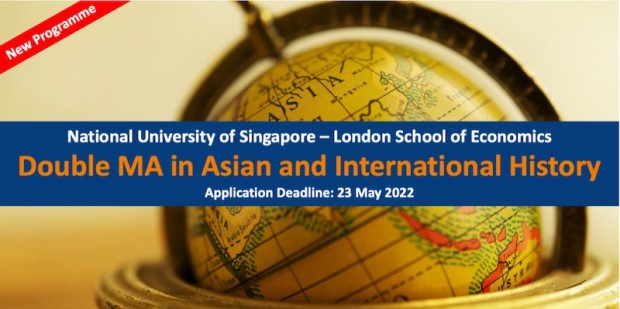 The National University of Singapore (NUS) and the London School of Economics & Political Science (LSE) are accepting applications for admission to their NUS-LSE Double Degree MA in Asian and International History from now till 23 May 2022.
This two-year full-time master's program taught by the National University of Singapore and the London School of Economics is designed for students interested in both studying Asia from an international perspective, and de-centering international history by studying it from an Asian perspective.
Key Details about the NUS-LSE Double MA in History
Year 1 at NUS
Contemporary historical methods, focusing on theoretical history, major historians, historical practice and interpretation
Electives covering modern Southeast Asian, Singapore, modern East Asia, China, America and modern Europe as well as imperialism and empire, the Cold War, military history, cultural history and oral history.
Year 2 at LSE
International History courses ranging from the Ottoman Empire to 20th-century Southeast Asia. Thematically, courses cover everything from war and peace to the history of race and gender.
Option to study European, American, and African History, in addition to centering on Asian History
You will engage at an advanced level with the latest academic research in the field and undertake your own research-based term papers and third term dissertation, through which you pursue specialist research on a subject with an Asian focus.
For more detail, see here.